Upcoming Events
The RCDSMM events calendar is your guide to conservation and education events in the Santa Monica Mountains. Check back often for new listings.
Wildfire Preparedness Training 
Based on the most recent fire science findings, this FREE course is designed to teach residents how to reduce the risk of wildfire ignition by implementing home hardening and firewise landscaping best practices.
Register for our April 15th Wildfire Preparedness Training!
If you miss us on this date, alternative opportunities will include May 20th & June 10th. Registration for each training will open one month prior to the actual training date.
Stay up-to-date on future opportunities via this webpage, by joining our mailing list or by following us on social media (@rcdsmm).
If you have questions, please email our community resilience team.
Oak Tree Restoration at Trippet Ranch
In 2018, the RCD along with partners from CA State Parks, the Watershed Stewards Program, and TreePeople planted about 50 young coast live oaks throughout Trippet Ranch in Topanga State Park. Since that time, the RCD with the help of many volunteers, have planted over 250 oak trees in this park.
RCD funding for continuing maintenance at this site came to an end at the close of 2022. However, our partners at TreePeople have agreed to host volunteer events in order to care for oaks at this important restoration site. If you have a corporate group interested in restoring and enhancing local oak woodlands, please reach out to volunteer coordinators at TreePeople.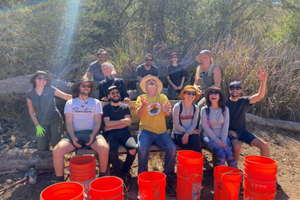 Regular volunteer events will soon resume. Stay up-to-date on upcoming opportunities by regularly checking this webpage, following us on social media (@rcdsmm) or signing up for our quarterly newsletter.