Upcoming Events
The RCDSMM events calendar is your guide to conservation and education events in the Santa Monica Mountains. Check back often for new listings.
WiLD CiTY – an outdoor workshop series by your RCD 
Join our community workshop series, WiLD CiTY – a set of hands-on immersive experiences within some of LA's most scenic wildspaces! Experts will guide you as you re-discover local ecosystems and see nature in a whole new way.
Read more about this workshop series to start your adventure today: WiLD CiTY webpage! 
Tree Care at Trippet Ranch
The RCD needs your help to care for the over 250 coast live oak trees planted throughout Trippet Ranch in Topanga State Park.
Join us to water, weed, and mulch trees as well as collect meaningful data to aid in an ongoing reforestation project the RCD has been conducting since 2018.
When: TBD |  9am-12:30pm
RSVP: details to come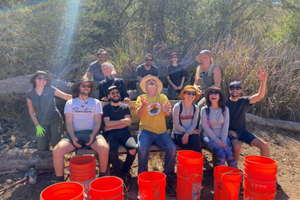 Regular volunteer events will soon resume. Stay up-to-date on upcoming opportunities by regularly checking this webpage, following us on social media (@rcdsmm) or signing up for our quarterly newsletter.