What's New at Topanga Lagoon
Watch Our Recent Public Meeting
The RCD, along with project stakeholders from CA State Parks, CalTrans, LA County of Beaches & Harbors and Lee Andrews Group held a Public Information Meeting on June 17th, 2023. 
Presenters updated the community on where the project stands today, recent planning developments, alternative restoration designs and the vision for the future of Topanga Lagoon and Beach. Watch a recording of the presentation via the link below. 
Technical Advisory Committee Meets
Sixty-six members of the Topanga Lagoon Restoration Technical Advisory Committee (TAC) met on April 27th, 2023 to review the draft project analyses and provide expert guidance on regulatory considerations, prioritize conflicting goals for restoration, and identify any deficiencies. The project team is grateful for the time and expertise provided by the TAC. It truly takes a village!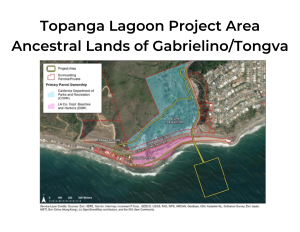 Topanga Lagoon in the News