In the News
Read about the latest news and events involving the RCD.
Other Stories
---
Taking Care of Your Trees During Drought
Find out the best ways to care for your trees throughout dry summer months and ongoing drought. 
Get advice from our Senior Conservation Biologist
---
Wildlife Crossing Bridge Coming to California
Check out this New Yorker article discussing the launch of the largest wildlife crossing in the world!
New Yorker Article by Emily Witt
---
Malibu Times Journalist Joins an Oak Care Event
Samantha Bravo, a journalist at the Malibu Times, joined our Stream Team during one of our Oak Care Events at Trippet Ranch. Check out her take on this important work at the link below.
---
Topanga is Officially Firewise Certified!
Clark Stevens Speaks at Wallis Annenberg Wildlife Crossing Groundbreaking Ceremony
Clark Stevens, one of the original designers behind the Liberty Canyon Wildlife Crossing which will enable Los Angeles wildlife to safely traverse one of the busiest highways in the world, was invited to speak at the momentous Groundbreaking Ceremony for the Wallis Anneneberg Wildlife Crossing. Check out a clip from his speech below!
---
Topanga is Officially Firewise Certified!
Topanga Canyon is now officially recognized as a "Firewise" community by the National Fire Protection Association and CalFire. Organizations involved in making this possible include the Topanga Town Council, TCEP, the Topanga Canyon Fire Safe Council, Arson Watch, the Topanga Chamber of Commerce, and (of course!) the RCDSMM! This firewise designation means that Topangans have taken a quantifiable number of actions on their property and within the community to make their homes and the wider landscape more resistant to wildfires and the damage they cause. Read more about what this means for our communities at the link below.
What does it mean to be Firewise?
---
GrizzlyCorps Gratitude
Check out this special shoutout to our incredible GrizzlyCorps Fellow, Pauline Allen! Pauline has been insturmental in scaling up our recently developed Community Resilience programs and helped build long lasting relationships with community leaders. All of us at the RCD will be forever grateful for her contribution and we cannot wait to see what she accomplishes next! PS Pauline is featured on pg 11 of the report linked below.
Read the full gratitude report here.
---
Architectural Solutions to Sea Level Rise Panel Discussion
Check out this recording of RCD's Executive Officer, Clark Stevens, as he discusses landscape architecture solutions to sea level rise alongside UCLA Research Professor, Richard F. Ambrose P.h.D. Panel discussion presented by CalPoly Pomona College of Environmental Design.
---
Bad Beetles Are Here
Check out this Canyon Chronicle article written by RCDSMM's Senior Biologist, Rosi Dagit, to learn about invasive shot hole borers, the threat they pose to our native trees and what you can do to help!
---
RCDSMM Senior Biologist Featured in Bad Beetle Article
Check out this Malibu Times article all about invasive shot hole borer beetles impacting our native trees. See if you can find our  Senior Biologist's quote in this awesome article!
---
Fire-Wise Landscaping Class Recording
Check out this recording of our virtual Fire-Wise Landscaping class led by Antoine Kunsch. This class was made possible thanks to our partners at the Triunfo Water & Sanitation District.
---
The Canary in the Coal Mine: Southern Steelhead Endangered Species Status
Check out this article written by Sandra Jacobson about the history of steelhead recovery in California throughout the years.
---
Invasive Shot Hole Borer Article from The Malibu Times
Check out this article written by Jimy Tallal about invasive beetles killing trees across the Santa Monica Mountains and learn what you can do to help.
---
Movable Objects: Breaching the Rindge Dam on Malibu Creek
Check out this audio interview of Kyle Baker interviewing Dr. Sandi Jacobson, CalTrout's South Coast Regional Director, about the removal of Rindge Dam on Malibu Creek.
---
Sustainable Defensible Space: Protecting Homes and Landscapes Against Wildfires
Check out this article from Elisa Read Pappaterra of Pacific Horticulture featuring our Community Resilience Department. Read all about sustainable defensible space and how to protect your home and property from wildfire.
---
Discussion of Post Woolsey Fire Recovery with Rosi Dagit & the CA Native Plant Society
Check out this recording from Rosi Dagit's presentation on post fire recovery of riparian habitat in the Santa Monica Mountains.
---
Fighting Fire with Forecasting: Predicting Woodland Habitat Suitability in the Santa Monica Mountains
Check out this great article featuring NASA, our RCD and other partners as we discuss how to plant for the future!
---
LA Times Article – Creating Steelhead Passage in LA River
"Building this fish passage would be a historic step toward saving steelhead…and helping every other native aquatic species that no longer feels at home in the L.A. River."
Our senior biologist, Rosi Dagit, was quoted in this LA Times article regarding the creation of Steelhead passage in the LA River. With the help of some incredible biologist and engineers, this city plans on welcoming steelhead back home by, as the Mayor puts, restoring "nature literally down the very spine of this great city."🌳🌆
---
Topanga New Times RCDSMM Feature
Check out this article in the Topanga New Times featuring our RCD along with other key environmental and advocacy non profit organizations in the Santa Monica Mountains.
---
The RCD co-hosted Coastal Cleanup Day at two locations: Topanga Creek in the town of Topanga and Haskell Creek at the Sepulveda Basin Wildlife Reserve in the San Fernando Valley. The Messenger Mountain News checked in with RCD staff afterward to report on the results.
---
Earth Day 50 with the RCD
Celebrate the 50th Anniversary of Earth Day with this awesome compliation of RCD staffers telling you how to celebrate Earth Day from home, what inspired us to pursue a career in working for the environment, and what our earliest memory of being with and amongst nature was!
Watch the full Earth Day 50 RCD video here.
---
Eco-Science Programs Featured on The Buzz:
Calabasas's Channel The Buzz covers an RCD Eco-Science Program at Bay Laurel Elementary School.
Check out the video featuring our Eco-Science programs.
---
Haskell Creek Clean Up is a Huge Success
Thanks to our partners at the San Fernando Valley Audubon, Friends of the LA River, and LA River Master Plan, over 150 volunteers were able to pull tons of trash out of Haskell Creek in the Sepulveda Basin Wildlife Area.
Check out the full article here.
---
Woolsey Fire Wildlands Recovery Will be a Long Process
The Woolsey Fire burned approximately 60% of the District's wildlands. It will take years and even decades for the natural areas to recover as discussed in the article below.
---
Resiliency Strategies for Malibu's Built Environment: Building Technologies and Preparing for the Future
On May 15th, 2019 the RCD joined the City of Malibu and the US Resiliency Council for this event, which included a panel of experts discussing best practices for resilience-based design, materials and mechanical systems for extreme weather events and natural disasters.
Check out a video from the event here.
---
Malibu Lagoon Observations
The Local Malibu followed RCD biologists and field personnel to discover the fish and other inhabitants of Malibu Lagoon. Read the Malibu Lagoon Observations here.
---
Cougar Crossing on Schedule, With Lots of Local Support
The RCD participated in a public information event at King Gillette Ranch to provide information on the progress of the wildlife crossing over Highway 101 at Liberty Canyon. The Malibu Times covered the event here.
---
Scientists recommend 2 freeway bridges for mountain lion crossings in Los Angeles, Riverside counties
In an effort to save the mountain lion population from extinction, a team of scientists released a report Tuesday recommending construction of wildlife crossings spanning two of the busiest freeways in Southern California that would enable greater movement and the opportunity for cross-breeding. Read the article with the scientist's recommendation here.
---
The Drought's Untold Toll on Oaks
NPS Fire Ecologist Marti Witter and RCDSMM Senior Conservation Biologist Rosi Dagit recount the effects of drought on oaks and other trees of the Santa Monica Mountains. Read about the drought's untold toll in this Acorn article.
---
RCDSMM Works with NASA to Study Tree Mortality
RCDSMM scientists and citizen volunteers have been studying tree mortality due to drought and invasive beetles. Collaboration with NASA to get the "10,000 foot" view of trees in the Santa Monica Mountains has greatly enhanced the project. Watch the video about Tree Mortality study for more information.
---
Drought and Bugs Have Killed Tens of Thousands of Trees in the Santa Monica Mountains
Senior Conservation Biologist Rosi Dagit discusses the effects of drought and beetle infestation on native trees and the wildlife that depends on them in this Los Angeles Times article. Read the LA Times article about Drought and Bugs here.
---
Malibu Lagoon Analyzed 4 Years After $6.6 Million Restoration
The RCDSMM was part of the coalition that restored Malibu Lagoon, which is going well at the four-year mark. Read the Malibu Times story here.
---
Endangered Steelhead Spotted in Local Creek
After a winter of historic rains, a southern steelhead trout was spotted in Arroyo Sequit Creek in Leo Carrillo State Park. This is a good sign for the health of the creek after work done to remove fish barriers. Read the Special Report about endangered steelhead spotted local creek here.
---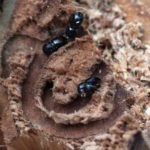 6 Tips for Beating the Beetles That Are Killing Our Trees
From Kuehl Happenings
---
The L.A. River – The Secret Life Below the Surface
By Marshall Bissett
from Newsletter of Sierra Pacific Flyfishers, Vol 45 No 12

Southwestern Pond Turtles in the Topanga Messenger
The following are a selection of articles from the Topanga Messenger on southwestern pond turtles:
Topanga's Turtles Surviving the Drought with a Little Help (9/24/2015)
Topanga Turtles Feeling the Heat (7/16/2015)
Manzanita School Provides Turtle Sanctuary: Sign Up to Help:  (7/2/2015)
The Oaks are Dying
Around September 3, 2016 two new problems for our oaks, sycamores and willows were confirmed in Topanga: the polyphagus shot hole borer (PSHB) that infests many species of native and non-native trees, and the foamy bark canker disease caused by the western oak bark beetle (WOBB) that prefers oaks only. Read more about the dying oaks here.
P-22 in Griffith Park-KCET
Mountain lion P-22, who  lives in Griffith Park, mauled a koala at the Los Angeles Zoo, but he might never have been there if a wildlife crossing over Highway 101 had been in place.  Watch the KCET segment here.
Plans Progress for Wildlife Crossing
The Thousand Oaks Acorn covers the 2 public meetings hosted by CalTrans and the National Wildlife Federation updating progress on the wildlife bridge.  Read the Acorn article about the plans here.
LA Remembers It Has a River
Takepart documents the current plans and issues surrounding LA River revitalization: www.takepart.com/feature/2015/12/14/la-river
Climate Change Dogs Efforts to Save SoCal Valley Oaks
KPCC documents one person's efforts to help Valley Oaks survive the drought and climate change. Read the full article about the efforts here
Will El Nino Be Able to Flush Fish Invaders Out of LA River?
LA Times
Read the full story about El Nino and fish invaders here
Why Are So Many Oaks Dying?
Topanga Messenger
Read more about the dying oaks.
Trees Die as Drought Takes Root
The Los Angeles County website chronicles drought-related tree problems throughout the County, including oaks in the Santa Monica Mountains: Read the article on the LA County website.
Future of Water: CA Conservationists Forced to Choose Between Habitats, Species
KPCC highlighted western pond turtles as part of their multi-part series on the future of water in California. See the story about the future of water here.
TREES Program at Topanga Elementary School
The RCDSMM is working with Topanga Elementary School to develop and implement a field based environmental education program that gets teachers and students excited about their natural environment.
Topanga Messenger
Read the full article about the TREES program here.
Citizen Scientists Help Extend LA River Fish Study
RCDSMM biologists are an integral part of the LA River fish studies as highlighted in this article by KCET. Read the KCET article.
LA River Fishing Derby
Check out the Los Angeles Times coverage of the inaugural LA River Fishing Derby, where Senior Conservation Biologist Rosi Dagit weighed and measured all fish caught at this catch and release event: Read the LA Times coverage on the derby here.
Los Angeles County recognizes Rosi Dagit, RCDSMM Sr. Conservation Biologist and CNPS volunteer
The California Native Plant Society noted in their Newsletter that Rosi Dagit was honored as one of the LA County Commission for Women's "Women of the Year".  Read the CNPS newsletter here.
Officials Begin Vetting Trancas Lagoon Project
The first public hearing on the reconstruction of Trancas Lagoon was held last week.  Check out the Malibu Times article for more information: Read the Malibu Times article here.
RCD Biologists search for steelhead trout in the lower LA River
The RCD's participated in this one-day search for southern steelhead trout in the lower Los Angeles River, coordinated by Friends of the Los Angeles River. Check out the LA Times article on the RCD's participation.
Senior Conservation Biologist Rosi Dagit is interviewed as part of the Topanga Digital History project:
Read the interview here.
Residents and Caltrans Partner Up to Preserve and Protect Topanga Canyon
Topanga Canyon Boulevard Partners have agreed to a plan to guide vegetation maintenance along Route 27. Read the press release here.
Fishing For Our Future: An Interview with Rosi Dagit and Melina Watts about the Fate of Rindge Dam
"Westlake Magazine" July 2013; Reprinted in The Real Malibu 411 July 19, 2013
Read the interview on fishing for our future here.
RCDSMM Honored with the Carl Gibbs Environmental Excellence Award
Executive Officer Clark Stevens and Board President Dennis Washburn accept the award at the Calabasas Environmental Committee meeting on Feb. 5, 2013.
Redford and Tidman Interview on "Watershed" Screening  at Pepperdine University
Malibu Times March 6, 2013
Read the full interview here.
Calabasas hands out environmental awards honoring nature's advocates
The Acorn. February 14, 2013
Read the article about awards here.
Working with Nature, a Sneak Peek at Malibu Lagoon
KCET, January 28, 2013
Read the KCET article about working with nature here.
Solving the whodunit of Topanga Beach water quality
Zev Yaroslavsky's website, January 2, 2013
Read the whodunit article here.
First Crayfish Roundup in Topanga Creek
Topanga Messenger
October 4, 2012
Read about the roundup here.
Roadside Committee Creates Mapping Plan
Topanga Messenger
September 6, 2012
Read the mapping plan here.
Correction letter October 4, 2012
Read the corrections here.
RCD Senior Conservation Biologist Rosi Dagit comments on record-sized oak tree in the San Gabriel Mountains
LA Times, September 2, 2012
Read Rosi's comments here.
Topanga State Park General Plan Preferred Alternative Revealed
Topanga Messenger, June 30, 2011
Read the full general plan here.
Topanga Naturally: Of Bats and Bridges
Topanga Messenger, April 21, 2011
Read the Topanga Messenger article here.
Fox News Video: Steelhead Trout Ladder Segment
April 28, 2011
Watch the Fox News Video here.