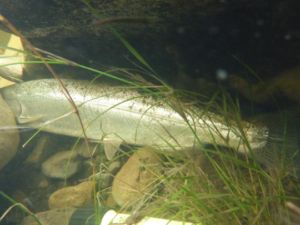 Endangered Steelhead Spotted in Local Creek
After a winter of historic rains, a southern steelhead trout was spotted in  Arroyo Sequit Creek in Leo Carrillo State Park.  This is a good sign for the health of the creek after work done to remove fish barriers.  Read more in the Ventura County Star: http://www.vcstar.com/story/news/special-reports/outdoors/2017/03/07/endangered-steelhead-spotted-local-creek/98854648/
The Oaks are Dying
Around September 3, two new problems for our oaks, sycamores and willows were confirmed in Topanga: the polyphagus shot hole borer (PSHB) that infests many species of native and non-native trees, and the foamy bark canker disease caused by the western oak bark beetle (WOBB) that prefers oaks only.
Read more: http://www.topangamessenger.com/story_detail.php?ArticleID=8514
P-22 in Griffith Park-KCET
Mountain lion P-22, who  lives in Griffith Park, mauled a koala at the Los Angeles Zoo, but he might never have been there if a wildlife crossing over Highway 101 had been in place.  See the KCET segment here: www.kcet.org/shows/socal-connected/episodes/northern-white-rhino-p-22-the-nomad
Plans Progress for Wildlife Crossing
The Thousand Oaks Acorn covers the 2 public meetings hosted by CalTrans and the National Wildlife Federation updating progress on the wildlife bridge:  www.toacorn.com/news/2016-01-21/Community/Plans_progress_for_wildlife_crossing.html
LA Remembers It Has a River
Takepart documents the current plans and issues surrounding LA River revitalization: www.takepart.com/feature/2015/12/14/la-river
Climate Change Dogs Efforts to Save SoCal Valley Oaks
KPCC documents one person's efforts to help Valley Oaks survive the drought and climate change: www.scpr.org/news/2015/12/02/55986/climate-change-dogs-efforts-to-save-so-cal-valley/
Will El Nino Be Able To Flush Fish Invaders Out of LA River?
See LA Times story here: www.latimes.com/local/california/la-me-lariver-fish-el-nino-20151122-story.html
Why Are So Many Oaks Dying?
See Topanga Messenger article here: www.topangamessenger.com/story_detail.php
Trees Die as Drought Takes Root
The Los Angeles County website chronicles drought-related tree problems throughout the County, including oaks in the Santa Monica Mountains: www.lacounty.gov/treedrought
Future of Water: CA Conservationists Forced to Choose Between Habitats, Species
KPCC highlighted western pond turtles as part of their multi-part series on the future of water in California.  See the story here: www.scpr.org/news/2015/09/18/54490/future-of-water-california-conservationists-forced/
TREES Program at Topanga Elementary School
The RCDSMM is working with Topanga Elementary School to develop and implement a field based environmental education program that gets teachers and students excited about their natural environment.  See the Topanga Messenger article:  www.topangamessenger.com/story_detail.php
Citizen Scientists Help Extend LA River Fish Study
RCDSMM biologists are an integral part of the LA River fish studies as highlighted in this article by KCET: www.kcet.org/socal/departures/lariver/confluence/river-notes/citizen-scientists-help-extend-la-river-fish-study.html
LA River Fishing Derby
Check out the Los Angeles Times coverage of the inaugural LA River Fishing Derbry, where Senior Conservation Biologist Rosi Dagit weighed and measured all fish caught at this catch and release event: LA River
Los Angeles County recognizes Rosi Dagit, RCDSMM Sr. Conservation Biologist and CNPS volunteer
The California Native Plant Society noted in their Newsletter that Rosi Dagit was honored as one of the LA County Commission for Women's "Women of the Year".  CNPS eNewsletter June 2014.
Officials Begin Vetting Trancas Lagoon Project
The first public hearing on the reconstruction of Trancas Lagoon was held last week.  Check out the Malibu Times article for more information: www.malibutimes.com/news/article_5f8b2bd4-fc9c-11e3-8520-001a4bcf887a.html
RCD Biologists search for steelhead trout in the lower LA River
Check out the LA Times article on the RCD's participation in this one-day search for southern steelhead trout in the lower Los Angeles River, coordinated by Friends of the Los Angeles River.
Coastal Cleanup Day Crayfish Roundup
RCDSMM volunteers and staff spent a couple of hours in Topanga Creek on Saturday September 21 fishing for crayfish.  Check out the results and photos here: Crayfish Roundup
Senior Conservation Biologist Rosi Dagit is interviewed as part of the Topanga Digital History project:
http://www.colapublib.org/topangadigitalhistory/rosi-dagit/
Residents and Caltrans Partner Up to Preserve and Protect Topanga Canyon
Topanga Canyon Boulevard Partners have agreed to a plan to guide vegetation maintenance along Route 27. See the press release here.
Fishing For Our Future: An Interview with Rosi Dagit and Melina Watts about the Fate of Rindge Dam
"Westlake Magazine" July 2013;
Reprinted in The Real Malibu 411 July 19, 2013
http://therealmalibu411.blogspot.com/2013/07/damn-dam.html

RCDSMM Honored with the Carl Gibbs Environmental Excellence Award

Executive Officer Clark Stevens and Board President Dennis Washburn accept the award at the Calabasas Environmental Committee meeting on Feb. 5, 2013.
Redford and Tidman Interview on "Watershed" Screening  at Pepperdine University-Malibu Times March 6, 2013
http://www.malibutimes.com/news/article_09f4660c-8689-11e2-9ea5-0019bb2963f4.html
Calabasas hands out environmental awards honoring nature's advocates-Acorn February 14, 2013
http://www.theacorn.com/news/2013-02-14/Community/Calabasas_hands_out_environmental_awards_honoring_.html
Working with Nature, a Sneak Peek at Malibu Lagoon-KCET January 28, 2013
http://www.kcet.org/socal/departures/lariver/confluence/river-notes/working-with-nature-a-sneak-peek-at-malibu-lagoon.html
Solving the whodunit of Topanga Beach water quality-Zev Yaroslavsky's website January 2, 2013
zev.lacounty.gov/news/environment/solving-the-whodunit-of-topanga-beach
First Crayfish Roundup in Topanga Creek-Topanga Messenger October 4, 2012
http://www.topangamessenger.com/story_detail.php?ArticleID=5590
Roadside Committee Creates Mapping Plan-Topanga Messenger September 6, 2012
http://www.topangamessenger.com/story_detail.php?SectionID=&ArticleID=5514
Correction letter October 4, 2012:
http://www.topangamessenger.com/story_detail.php?ArticleID=5593
RCD Senior Conservation Biologist Rosi Dagit comments on record-sized oak tree in the San Gabriel Mountains-LA Times September 2, 2012
http://www.latimes.com/news/local/la-me-giant-oak-20120903,0,2623582.story
Topanga State Park General Plan Preferred Alternative Revealed-Topanga Messenger June 30, 2011
http://www.topangamessenger.com/Articles.asp?SectionID=1&ArticleID=4488
Topanga Naturally: Of Bats and Bridges-Topanga Messenger April 21, 2011
www.topangamessenger.com/Articles.asp
Fox News Video: Steelhead Trout Ladder Segment-April 28, 2011
http://video.foxnews.com/v/4227971/fishy-budget-item-?playlist_id=87937
Island of Nature: The Santa Monica Mountains 2009- Los Angeles County Third District Supervisor Zev Yaroslavsky's website
http://zev.lacounty.gov/multimedia/video/santa-monica-mountains-an-island-of-nature-120109