Volunteers contribute considerably to the success of RCDSMM programs.  Volunteers help monitor wildlife, plant and care for native trees, remove crayfish from our creeks, help monitor the watershed, manage data, assist with trainings and events, and more.  If you would like to volunteer your time with the RCDSMM, please contact us.  
Click here
to read about our volunteer opportunities throughout the year.
Interested in gaining experience in conservation biology, habitat restoration, land stewardship, environmental education, or business administration? We offer internships for students at all levels in
Conservation Biology
and
Environmental Education.
 We also offer Administration/Office Internships; to learn more about  these opportunities please contact our
Operations Manager
.
We currently have no positions available. Please check back in the future.
LIBERTY CANYON WILDLIFE PASSAGE PROJECT REQUEST FOR PROPOSALS:
ANNOUNCEMENT:
Notice is hereby given that bids will be accepted by the Resource Conservation district of the Santa Monica Mountains (RCDSMM), for furnishing all labor, services, materials, soil amendments, plants, irrigation supplies, boulders, cobble, gravel, mulch, equipment, and performing all work to provide for a complete and acceptable project, including site work for:
liberty canyon wildlife passage project, This work will require the removal of vegetation, a small section of concrete roadway, and chain link fencing as specified in the plans. The selected contractor will also be responsible for minor grading, the installation of inline drip irrigation including the boring or ramming of piping below the Liberty Canyon 101 freeway on ramp and off ramp, planting native vegetation, mulching of planted areas, digging and placing boulders, cobble, gravel, to simulate a stream. Further the project will also involve the installation of signs, markers and reflectors as specified. The selected contractor will be responsible for following water pollution control program (WPCP), that directs the proper installation and maintenance of stormwater best management practices (BMP's)
Bid No. #17-0721
In the City of Agoura Hills along the Cal Trans right-of-way and in strict accordance with the plans, specifications, WPCP, and Cal Trans right-of-entry permit included in this bid package.
DESCRIPTION OF WORK:
The work to be done consists of furnishing all materials, soil , plants, boulders, cobble, gravel, mulch, signs equipment, tools, labor and incidentals as required in the specifications and contract documents, for the following project(s): "LIBERTY CANYON WILDLIFE PASSAGE PROJECT."
This work will require the removal and grubbing of specified vegetation and chain link fencing installation of native plants, inline drip irrigation. boring or ramming irrigation pipe below the 101 freeway on ramp and off ramp, minor grading, digging and placement of boulders, cobble, gravel, mulch and the installation of signs reflectors and markers within the Cal Trans right-of-way.
COMPLETION OF WORK:
All work to be done under this contract shall be completed within Sixty (60) calendar days, beginning on the date stipulated in the written "Notice to Proceed" issued by the RCDSMM.
BIDDING PROCEDURES
All bids and bidding procedures must comply with the "Instruction to Bidders", Section B of the Bid Documents.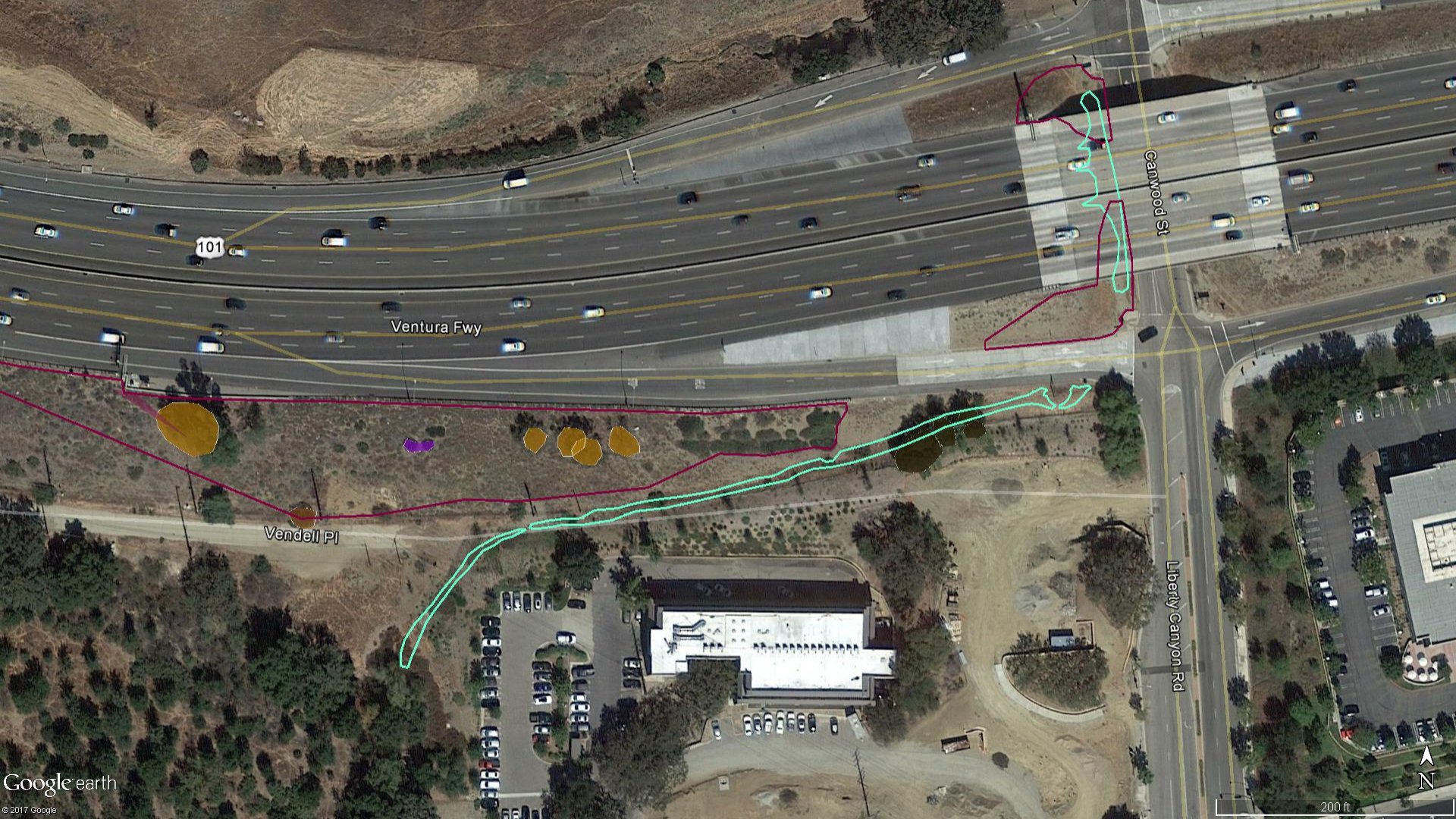 SUBMISSION OF BIDS
Bids must be received electronically: mabramson@santamonicabay.org via email not later than 12:00 PM on August 25th, 2017 at which time bids will be opened by RCDSMM staff.  Bids will be referred to the Executive Officer of the Resource Conservation District of the Santa Monica Mountains for the appropriate action.
BID DOCUMENTS
A copy of the plans, specifications, CalTrans Right of Entry permit, and the Water Pollution Control Program (WPCP) may be obtained and downloaded electronically here:
2. Final Plans
4.  WPCP
FORM AND STYLE OF BIDS
Bids must be prepared on the forms provided with these BID DOCUMENTS and must be in compliance with the INSTRUCTIONS TO BIDDERS.  Bidders shall not change the wording of the forms provided, except as required by Addendum
QUESTIONS/REQUESTS FOR INTERPRETATION;
All questions shall be directed to Mark Abramson, Senior watershed Advisor, at mabramson@santamonicabay.org .
RIGHT TO REJECT BIDS
The RCDSMM reserves the right to reject any or all bids as the best interests of the RCDSMM may dictate.  Bidders are referred to Section B, "INSTRUCTIONS TO BIDDERS," for additional qualification requirements.
SHORING
Pursuant to the provisions of the California Labor Code Section 6707, each bid submitted in response to this Invitation to Bid shall contain, as a bid item, adequate sheeting, shoring, and bracing, or equivalent method, for protection of life and limb in trenches and open excavation, which shall conform to applicable safety orders.  By listing this sum, the bidder warrants that its action does not convey tort liability to the Owner, the Engineer, the Construction Manager, and their employees, agents and sub consultants.
CONTRACTOR'S LICENSE
All bidders shall be licensed under provisions of Chapter 9, Division 3 of the Business and Professions Code of the State of California to do the type of work contemplated in the project.  In accordance with provisions of California Public Contract Code Section 3300, the Owner has determined that the Contractor shall possess a valid C-27contractors license. Bidders shall also be compliant with the USEPA Central Contractor Registration (CCR). Failure to possess the specified license shall render the bid as non-responsive.
BY ORDER OF THE RESOURCE CONSERVATION DISTRICT OF THE SANTA MONICA MOUNTAINS